E2E Expo: Urban Housing Solutions for the Developing World
22 items sold
$340 raised
50 goal
Thanks to our supporters!
$20
Gildan Ultra Cotton T-shirt
Unisex - Black
About this campaign
Engineering2Empower (E2E) is a team of faculty and students at the University of Notre Dame who, along with their partners, envision a world where all families can afford a safe, dignified home.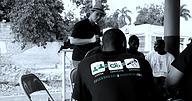 E2E facilitates access to housing,primarilyby seeding an integrated process that empower local entrepreneurs to deliver engineered urban housing in the free market within informal economies like Haiti. Learn more athttp://e2eexpo.org/
Comments
Share Why You Support "E2E Expo"
Loading Facebook comments…