Custom Headphones
Create Your Own Custom Headphones With Ease.
Add Your Logo, Make Your Own Design, or Ask an Artist.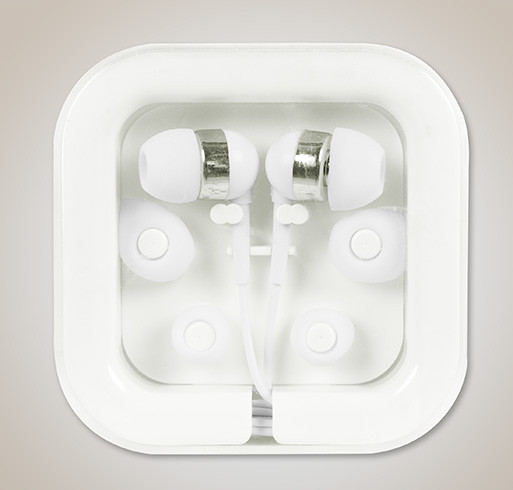 Bring some color to your music with these earphones!
These earbuds have interchangeable soft rubber earbud covers that will make listening comfortable for your entire group. An essential any time music is part of your event!
Select a Color,
Then

Start Designing
[?] Pick a color and start designing
These colors require a minimum order of 50.
More Customizable Headphones
Looking For Something Else?
We have hundreds of products to make your group look great.
BROWSE OUR CATALOG
Turn Up the Volume With Custom Headphones
Personalized headphones and ear buds are a great way to promote your team, event, or business. At Custom Ink, you can add your own artwork or custom design headphones using our image and font libraries. We have thousands of images in our art library to ensure you'll find the exact design or logo you want to create. 
Our online design lab and money-back guarantee make sure that purchasing those custom in-ear or bluetooth headphones has never been easier. Our sales team is available 7 days a week to assist in your design or to provide a fast, accurate quote for your order.
Read More
WE'RE HERE TO HELP
Incredible Service. All-inclusive Pricing. Real Love.
Real People 7 Days a Week
An Inker By Your Side
Need help with your design or order? Call us, chat us, or send us an email - we'd love to talk to you!
Contact Us
All-in Pricing
Your Price Includes:
Expert Help, 7 Days a week
Price Breaks
Exclusive Artwork & Fonts
FREE design Review
FREE Shipping
Learn More
Live & Uncensored
Customer Reviews
UncensoredCustomer ReviewsSM
Cool design. My colleagues laughed a lot with the message.
Constantine M.
Friendswood, TX
Great customer service and fast shipping
Customer service was epic
Jason C.
The Student
Bronx Science
Bayside, NY
Very easy to use - many font options
Karen R.
Scotch Plains, NJ
The prices are too high.
Kelly S.
teacher
Rock Falls Twp High School
Rock Falls, IL
Slick professional customer service. Two thumbs up.
I wouldn't order again, the shirt quality is terrible.
Macy N.
Bloomstone
Irvine, CA
Repeat customer because of Quality and Service
Henry C.
Topar Racing
Trinidad, CO
Quick, simple solution for apparel printing needs!
Shannon T.
Green Dot Corporation
Sacramento, CA
Great product and experience!
JAMES K.
Full Frame Fotos
Vista, CA
See All Reviews